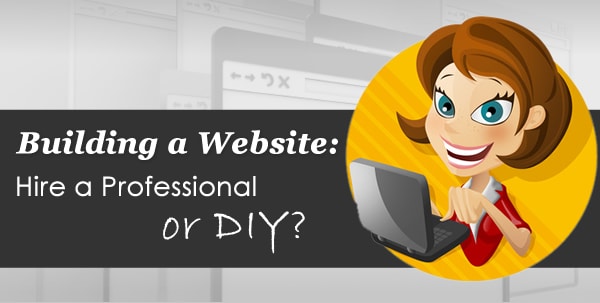 Michigan Web Design Company Discusses Hiring a Professional vs. DIY Websites
I love cooking but I don't plan on opening a restaurant anytime soon. I'm sure the food would be good but there is more involved in opening the restaurant than just the food itself. There are the financials, training and overseeing staff, knowing what and how much to order, safety regulations etc.  You might be pretty savvy on the computer and even enjoy creating, but building your company's online presence  requires some extra care. That is, if you plan on standing out from the competition, ranking well on Google and having a website that converts visitors into clients.
A DIY template might seem inexpensive and easy, but in the long run, your business will benefit from hiring a professional web designer.
Why Hire a Michigan Web Design Company?
A Professional Web Designer Is Human
When you hire a professional company, you have someone you can contact with any questions or concerns you may have. DIY websites typically lack customer service and human interaction. Usually the communication is limited to emails or online chat.
A Professional Web Designer Saves You Time
If you want your website to stand out from your competitors and be a lead generating tool you probably shouldn't do a "Build-your-site-in-an-hour" template because that is exactly what it will look like.  You must be willing to put forth the time and effort involved in building a professional web presence.
As a Michigan business owner, your free time is probably limited.  You manage employees, take care of clients, handle marketing to generate new clients, not to mention other day to day tasks. So which one of those things will you take time away from, in order to build your new website?
Not only will hiring a professional save you time, it will save you frustration. There are a number of skills needed to create websites and these skills are more than the HTML basics. A professional web designer is skilled in other areas such as marketing, HTML, CSS, photo optimization, search engine optimization, and sometimes programming such as PHP.
A Designer Can Customize Your Site to Represent Your Business
There are millions of websites on the Internet. How will you make your DIY template stand out? Buying  a DIY template may seem  easy and inexpensive,  but realize your site may resemble several others on the web. Many of these DIY websites have limitations and restrictions. For example, limited color and layout selections.  They may not have certain features such as contact forms, photo galleries, and other important items your business needs.
A Professional Can Optimize Your Site for Google Search
Search Engine Optimization ensures people in search of your services will be able to find you on the internet.  Why have a website if you are invisible? It just doesn't make sense. It's like having a brick and mortar building with the open sign always turned off.  A professional web designer knows how to build your website in a way that search engines can easily read and rank your page, resulting in more leads and more business from people who may not have heard of you otherwise.
A Professional Web Designer Is Devoted To Your Project
Even the simplest DIY template has a learning curve and your time spent learning may be taken away from running your business. The nice thing about hiring a web design company is that you have someone absolutely committed to building your website.  Your website will be completed in a reasonable time frame while you focus your attention on your business.
Michigan Web Design Company Discusses Hiring a Professional vs. DIY Websites
Spyder Byte Media is a Michigan Web Design and Internet Marketing Company located in Shelby Township, Michigan. Spyder Byte Media has helped hundreds small business owners in Michigan make it to the top of the search engines and create more revenue by converting their website traffic into new clients.
Need to Hire a Michigan Web Design Company? Call: 586-260-1344