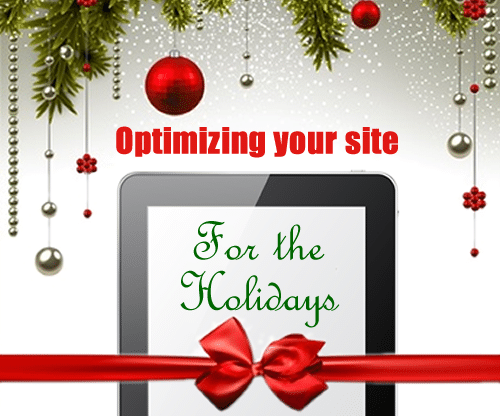 Optimizing Your Website for the Holidays – by Michigan Internet Marketer
Get the most out of your website this Christmas! We are approaching the busiest season for retail, and even if your site doesn't have an actual shopping cart, there are still some things you can do to bring more shoppers to your site or to your brick and mortar store.
There's no place like Google for the Holidays…
The best way to take advantage of holiday shoppers is to position your site on Google so you are in the top results for holiday search terms.  Let's start with "gift ideas". Now "gift ideas" is a broad term and may be hard to get on the first page for in this short amount of time. So think closer to your niche market. If you are in the men's clothing industry you might target "gift ideas for dad" or "affordable gifts for men". The further you niche it down, the less competition you will have.  If you are in the jewelry business you might target "gifts for your wife" or "engagement rings" since a lot of people get engaged at Christmastime.
Now you know what to do, so how will you do it? By adding content to your site that is relative to your targeted phrases.
Add pages or posts with products that make perfect holiday gifts as well as products you're discounting  for the holidays.  Include photos of your products but from a Google search standpoint, you will need to add text. This text will need to talk about why your products will make great gifts and contain your targeted phrase.  So write a blog article called "The Best Christmas Gifts for your Girlfriend " Then list photos of your products with descriptions and why each product will be the perfect gift for a wife or girlfriend.
TIP: Feature holiday products and promotions on your homepage to create even more awareness. 
Even if your site does not have an actual shopping cart you can still benefit from this technique.  People still look for ideas online before they head out to the mall so make sure your products will be on their shopping list.
How to Convert Shoppers into Customers
So you have shoppers visiting your site.  Great!  How will you convince them to actually make a purchase online or drive to your store to buy?
And how can you make the most out of the sales you receive?  Offer incentive.
1. Upsell
If you want your customers to spend more, you will need to give them a reason to.  How can you get people to spend $60 instead of $40 or $50? Offer free shipping when someone spends $60 or more, or basically any dollar amount that makes sense for your business.  If you don't ship your products you can offer a discount after a certain amount spent.  For example, "Receive a $___ gift card with a  purchase of $___. You fill in the blanks. The strategy here is to get shoppers to spend more because they believe they are receiving more value from their purchase.
2. Create a Sense of Urgency
Run promotions that are time sensitive to create a feeling of urgency. For example, 3 more days left of our 20% off sale. Or if you order now, you can have the item shipped to you before Christmas morning.
3 Make Your Discounts Attractive
There is a little psychology behind advertising. For example "Buy one get one free" might sound more attractive to shoppers than 50% off. Or if you have a lower cost item that is half off, it sounds better to say "50% off" than to say $6 off.  How your word your promotions can make a difference on how shoppers perceive the value.
How to Optimize Your Website for the Holidays – by Michigan Internet Marketer
Spyder Byte Media is a Michigan Internet Marketing Company located in Shelby Township. Spyder Byte Media has helped hundreds small business owners in Michigan make it to the top of the search engines and create more revenue by converting their website traffic into new clients.
Looking for More Internet Marketing Tips? Call:586-260-1344