SEO Tips for Facebook Search – What Michigan Businesses Should Know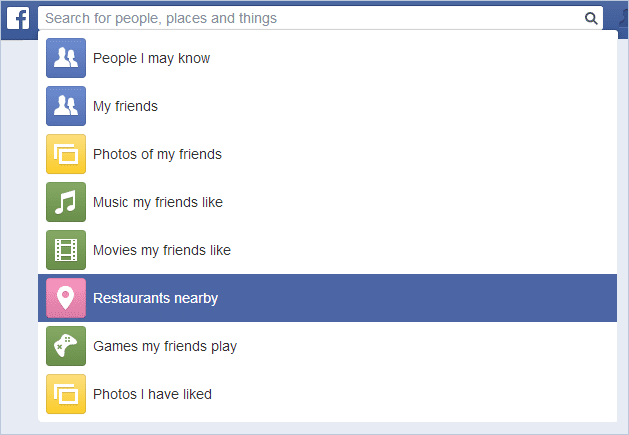 What? SEO for Facebook ???
Remember when you were looking for an old friend on Facebook, how you would type their name in that little white search box? Well that's still how it works…except now you can search for more than just people, you can search for photos, your friends favorite movies and more importantly, you can search for places of business. So is there anything Michigan businesses can do to  get to the top of the Facebook search?
Realize this is different than optimizing your website for the Google search. This is optimizing your Facebook business page so that it comes up in a Facebook search. In a  Facebook search, Facebook prioritizes results based on your friends recommendations(when people like a page) and where your friends have visited(when people check in someplace).
Looking for a new dentist? Nothing beats asking friends and family for recommendations and Facebook basically lets you ask all of your friends at once without really even having to ask them.
As you can see in the screenshot below, you can filter your search based on your friends' interests. For example,  dental offices that friends who live near by visited, dental offices your friends like, and so on.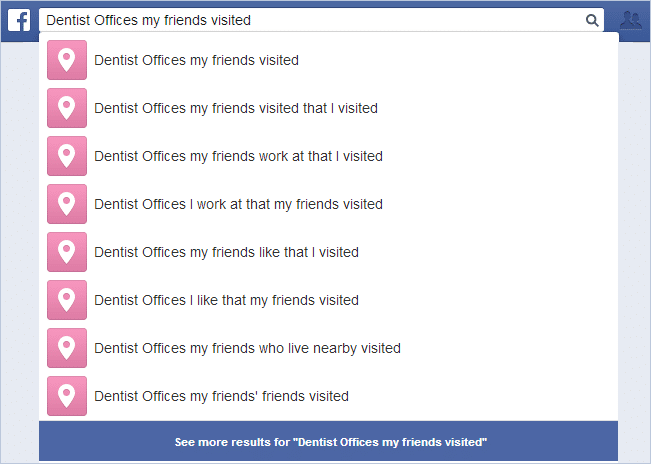 You can even see photos and videos from places of business.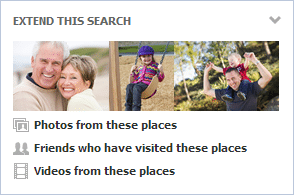 SEO Tips for Facebook Search – What Michigan Businesses Should Know
1. Encourage Likes
Since Facebook considers likes when providing search results, getting people to like your business page is key. Be sure to add a like button to your actual website. Another way to get more likes is to provide something of value in exchange for likes.
2. Encourage Check-ins
Pages with more check-ins seem to do better in the Facebook search. Similar to likes, try to come up with an incentive to get people to check in at your location.
3. Encourage Interaction
Make sure to post content that promotes interaction. Not only should your postings provide value to your fans, but be sure to choose the right fans that will be more inclined to show interest in your postings. When it comes to fans/friends, think quality over quanity.
3. Fill in the correct category and complete your profile information
Make sure to complete all fields in your Facebook page "About" section and select a category that represents your industry.
4. Address
If you have a location or a local place Page, be sure to add your address since search results can be filtered by location.
6. Keywords
Include keywords relative to your industry in your "About" section, and even in your status if possible.
7. Tag Videos and Photos
Since users can search for media such as videos and photos. Try to tag your business name in as much media as you can.
Understanding Facebook Search and Google Search
As mentioned earlier, Facebook search and Google search are 2 different ways to search the Web, and there are different processes for optimizing content for each type of search. However, it is important to realize that social media and Google are related. Google already takes into consideration if content has been shared, liked or even commented on.
For example, if you post a photo from your company website on Facebook, and this photo gets a lot of share and likes, those shares and likes are an indication to Google that your website contains valuable content that was interesting enough for people to become engaged. Since Google's job is to provide the best results for internet users, you could think of social media likes and shares as virtual votesFor a more in depth explanation of how Social Media and the Google search are related visit our article Does Social Media Influence Search Results?
SEO Tips for Facebook Search – What Michigan Businesses Should Know
Spyder Byte Media, Inc., is a Michigan Website Design company located in Shelby Township, Michigan. Spyder Byte Media has helped hundreds of Michigan business owners use social media marketing and outperform their competitors on the search engines.
Looking for SEO Help for Your Michigan Business? Call Today: 586-260-1344